21-02-2012, 11:07 PM
Chaos
Clan friend



Posts: 165

Joined: Feb 2012

Reputation:

15
ETSTARTERPRO TUTORIAL
Download and Install the latest version of ET Starter Pro (which is 0.95) of here:
http://returntocastlewolfenstein.filefro..._Pro;82871
When you download it, it will be as a .zip file. Unzip it using WinZip or WinRar. Extract the both the ETStarterPro.msi and Readme.txt to your documents. Once done Unziping, double click on ETStarterPro.msi to install it.
After done installing, leave ETStarterPro alone. If you want, you can delete the two files you unziped.
Setting Up ET Starter Pro-
To set up ET Starter Pro, Click on ET Starter Pro on your desktop, if not on Start, All Programs, ET Starter Pro.
A small pop-up should come up saying that it will try and determine where your ET.exe is located. If doesn't find it just browse for it. ET.exe will mainly be in (X):\Program Files\Wolfenstein - Enemy Territory (X being your main drive)
To add servers, go to Menu, on the top left, then Tools, then Options. It should of come up with something like this: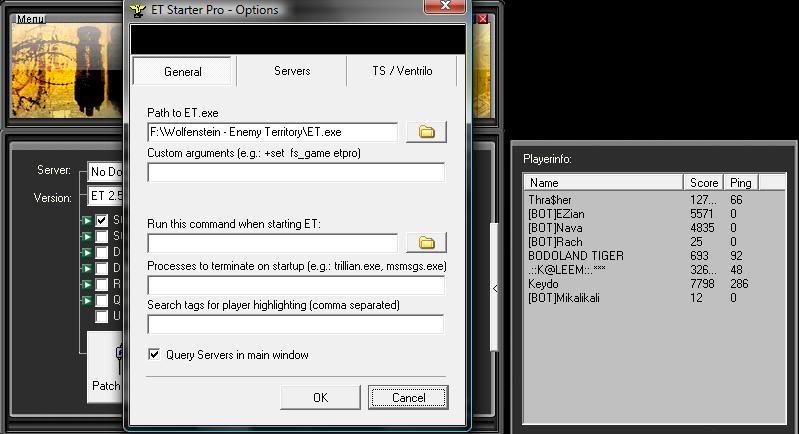 Click on the tab called "Servers"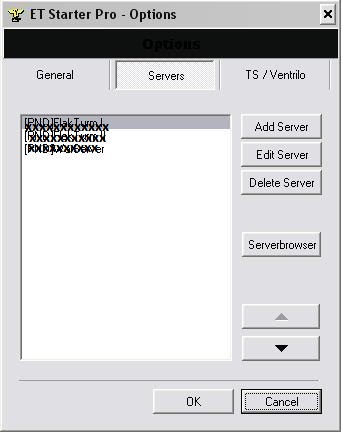 There would be three servers in there. Delete those three servers. Now once your done deleting them, click on Add Server and you should have something like this: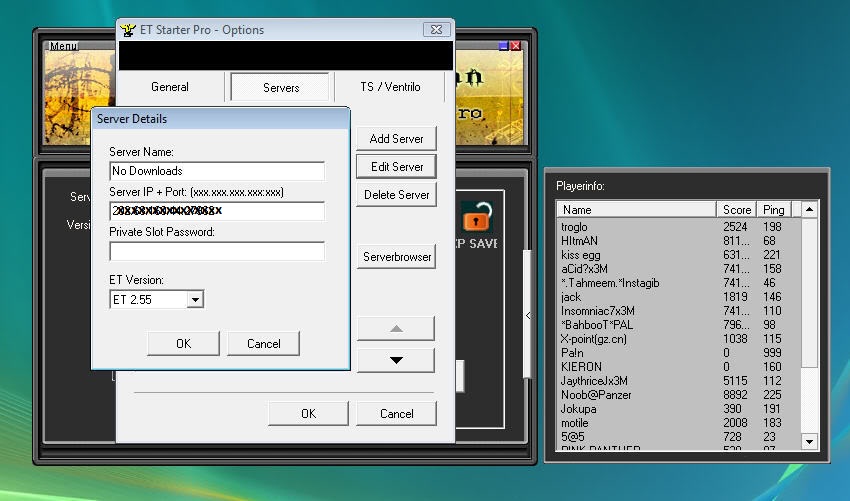 To add our ETpro server, click on Add Server again. In server name type in Server name.Then in IP type in x.x.xx.xx:xxxxx . Now in the ET Version make sure you have ET 2.60b in the box. Once done click on OK.
Now that your done with the Server. MAKE SURE, however you have Delete etkey file unchecked as well as Delete profile.pid file unchecked. You can also have Start ET Minimizer checked. ET Minimizer lets you minimize the game by holding down ALT+Z. Also if you want TS to run automatically, check the box that says Start Teamspeak/Ventrilo.
---
24-02-2012, 05:33 PM
(This post was last modified: 24-02-2012 05:34 PM by Andre.)
Andre
wubwub



Posts: 2,110

Joined: Feb 2012

Reputation:

136
RE: [Tutorial] ETSTARTERPRO TUTORIAL
when i made this tutorial, i forgot to post the last image;

chuck made it for me in old forum, i suggest to put in in your post
[/color]
---
User(s) browsing this thread: 1 Guest(s)