08-01-2017, 02:49 PM
NightFall
Fallest of the Nights



Posts: 624

Joined: Jan 2015

Reputation:

62
Mapping is not dead yet
Hello guys,
I've started my mapping carreer only a few months ago. Always seeing maps and thinking, geez, with some modifications this would make a great map for panzerwar, I wanted to make these modifications happen. Unfortunately, at the time, I had no clue how to decompile these maps. With some help from Snacky, who showed me how to do it, I started making some changes in maps that could already be found in the internet.
In this topic, I will present some of the work I have done so far. And more will certainly be coming. These changes go from very small changes (see ctf_ocelotl) to some more drastic changes (see gardenhouse and buddhapanzer)
The first map I started with was gardenhouse (see below). This map basically served as a learning ground for my mapping experience as it features a number of basic brushes (buildings, shapes) and at the same time it features a few more intermediate entities.
I started by removing the areas outside and below of the regular map since we don't need those in panzerwar. I removed the trees because they made parts of the map too busy. I then started changing some textures and removing some other unnecessary brushes. I changed the floor texture to grass, it's a gardenhouse afterall isn't it? I modified the spawn areas so everyone would be able to spawn in a correct way and I added a number of destructible items in the middle of the map.
Gardenhouse before: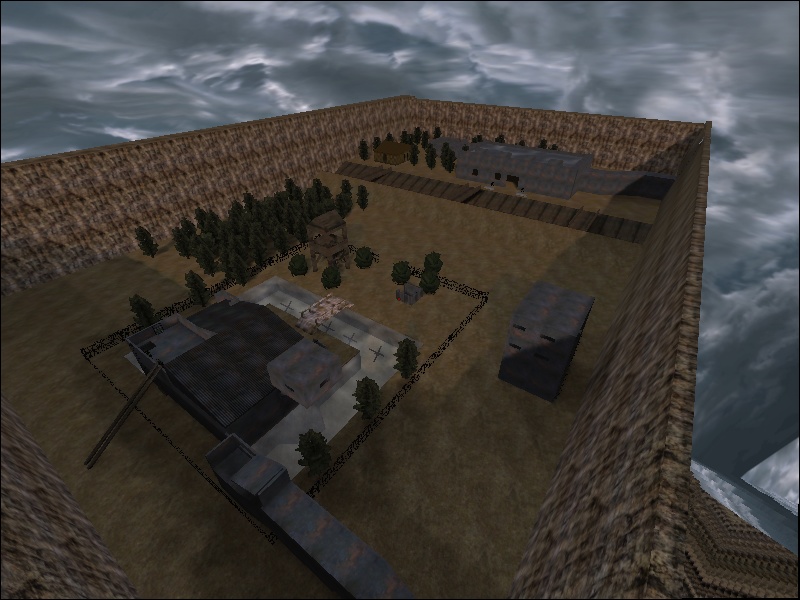 Gardenhouse after:
The second map I started working on was ctf_ocelotl. On this map, I only moved the spawn areas up to the main battleground and I closed off the underground passages to the spawns. I had some trouble getting the skybox to work upon compiling the map but thanks to Dominator for the help, I managed to get them working.
ctf_ocelotl before: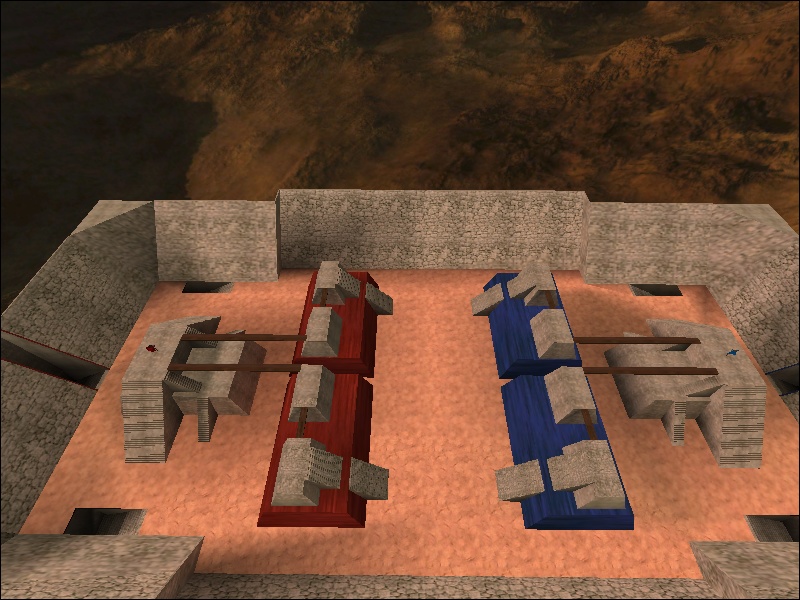 ctf_ocelotl after:
I'm not quite done with this map yet. I was only asked to close the underground areas but I might make the map a little bit broader and play a bit with the placement of the blue and red "pyramids" that you can see in the map.
The third map I put my hands on is a map I called buddhapanzer. It is based on the map [FID]MeetTheBuddhas. This was a project of my own, because I saw the map and I wanted to make something nice, and something different out of it. I made the map a bit smaller by removing a small unnecessary part of the map and subsequently, I filled up the gaps that I created. I made the hill in the middle of the map smaller (quite a pain in the butt to do that), I made the buddha statue bigger and moved it. I thought the map was ready to compile and be tested but that wasn't what gtk_radiant was thinking. The compilation was always abruptly halted in the lighting phase of the compilation process. I tried changing the textures for the terrain but no luck. I removed the floor terrain since it didn't add much to the map and I figured that so many small vertices could cause some issues. Still no luck. I removed parts of the map followed by recompiling to see if any of the objects in the map caused problems, but still no luck. I then started a blank project and copy pasted objects from the old map to the new one and, ultimately, I found the culprit. Some large windows with a lot (100-200) of small brushes caused it. I removed them and the map compiler didn't crash anymore. I then added some small details like some extra lighting etc.
[FID]MeetTheBuddhas: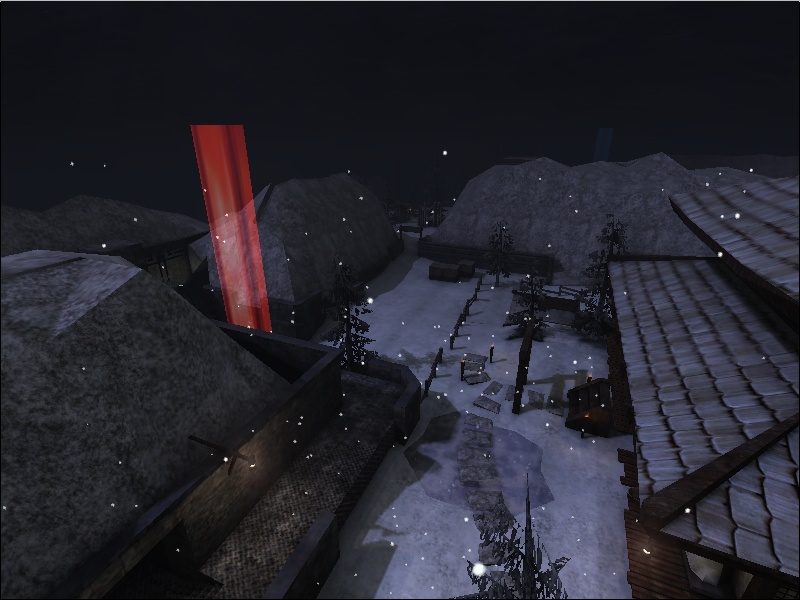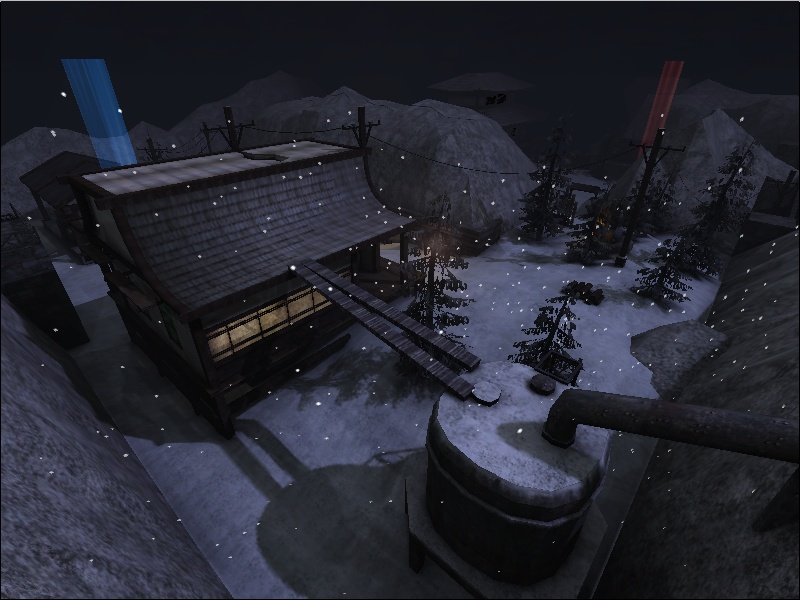 Buddhapanzer: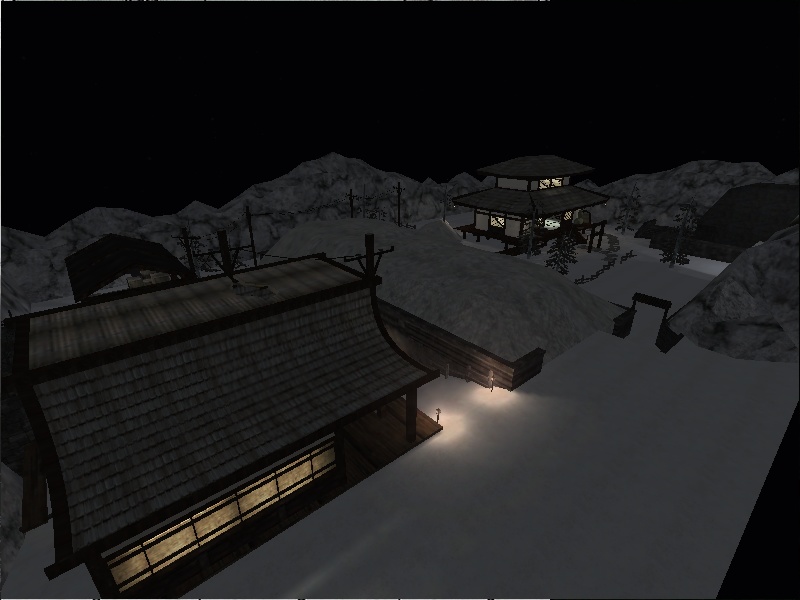 This map is also not fully finished yet. I'm still figuring out how to deal with lighting appropriately, and as you can see, the map is a lot darker in my version than it was in the version before because I chose a complete nightsky texture.
The fourth map was pool, also known as pool_desu_yo. This map also only needed some small changes. All I did was move the axis spawn to the opposite side of the map, made the map layout symmetrical i.e. I moved the pool a bit. And I added some brushes above the water because you don't want to fall into the pool all the time but it also has to remain a bit of a challenge to stay out of the water while shooting others.
pool before: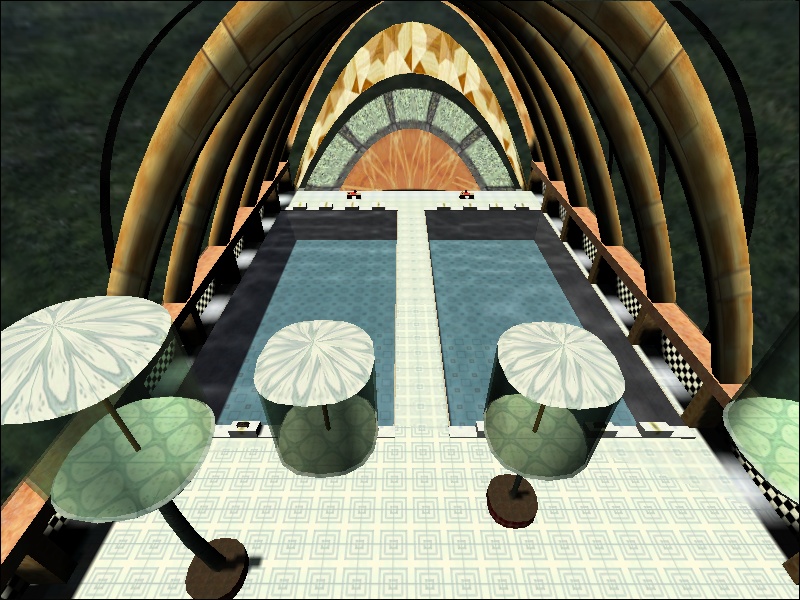 Pool after: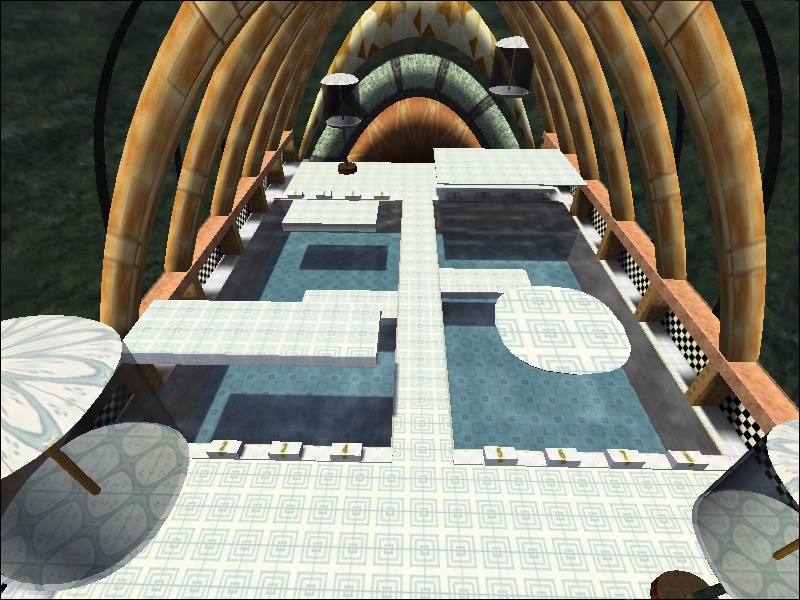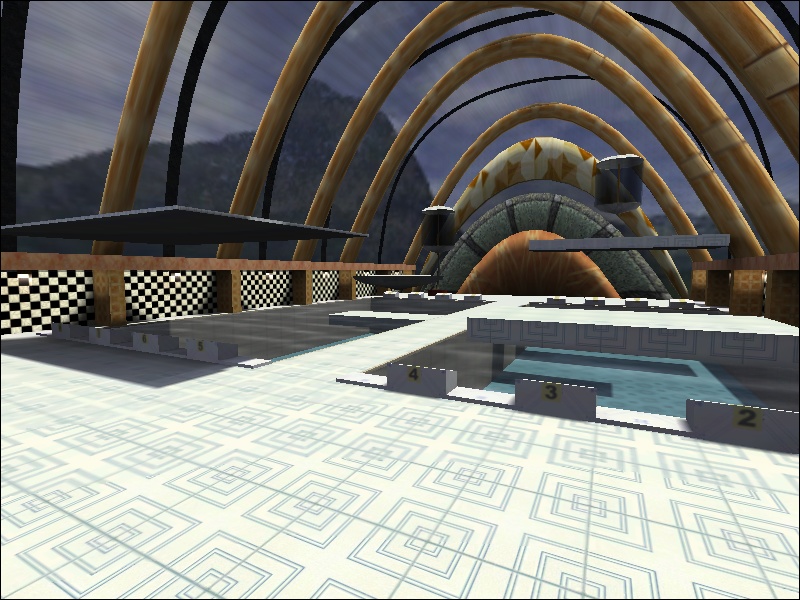 This is it for now. I am still working on different maps but depending on how much needs to be changed, it will take more or less time. Ocelotl, for example, took me like half an hour to close the gaps but a few hours trying to fix the skybox until Dominator told me what I did wrong. Fixing he compiling on panzerbuddha took me at least 10 hours. Pool also only took me like an hour to make all the changes.
I'm thinking of making a map or two from scratch as well but they will take a whole lot more time. Because it has to be built from scratch, but also because I am not the most creative person and at the same time I want everything to be pitch perfect.
I am always happy to hear your comments and suggestions and if you have any suggestions for maps, feel free to let me know.
--NightFall out
---

08-01-2017, 03:02 PM
Poseidon
Panzerwar God



Posts: 720

Joined: Mar 2015

Reputation:

97
RE: Mapping is not dead yet
LOVE!
Seriously, nice, damn nice! You make ppl love PW
Btw I have found some more maps that are just too big, but if you can erase some parts and move the spawn area then it should go well. Gonna tell you later.
Keep up that amazing mapping
---
Pleasure in the job puts perfection in the work


Aristotle
08-01-2017, 03:10 PM
Snowman
Frosty the Snowman



Posts: 668

Joined: Sep 2016

Reputation:

88
RE: Mapping is not dead yet
Looks really awesome, cant wait to play those!
---
Sky Wrote:Seems like a cool guy after all
08-01-2017, 03:31 PM
Thrasher
Meme Supreme



Posts: 4,816

Joined: Sep 2012

Reputation:

189
RE: Mapping is not dead yet
cant wait to play those maps! btw nightfall i actually been wanting to make maps too but dont know how. can you help me at some point?
---
08-01-2017, 03:59 PM
NightFall
Fallest of the Nights



Posts: 624

Joined: Jan 2015

Reputation:

62
RE: Mapping is not dead yet
(08-01-2017 03:31 PM)

Thrasher Wrote: cant wait to play those maps! btw nightfall i actually been wanting to make maps too but dont know how. can you help me at some point?
Sure thing, I'm still learning but I can pass on some information too.
---

08-01-2017, 04:27 PM
Fox
Symbowl Sign



Posts: 668

Joined: Dec 2012

Reputation:

81
RE: Mapping is not dead yet
Looks great.
---
Signature by MIMUS
08-01-2017, 07:10 PM
Sky
NOOT NOOT



Posts: 2,340

Joined: Jun 2012

Reputation:

221
RE: Mapping is not dead yet
Great work really, I especially like the pool map, the way you transformed it looks very neat, nice !
---
Discord : D0vid#8109
Fortnite : D0vid
31-03-2017, 09:50 PM
ZonElax
Savate Boxe Française



Posts: 1,505

Joined: Feb 2012

Reputation:

111
RE: Mapping is not dead yet
There were actually quite a lot of map makers here in TWC, but sadly much time has passed since then. John had helped me a lot with map making, he taught me most of the things I know, also Immortar or also known as Destroyer666 helped me a lot as well, if you could reach to any of those two, you are in good hands.
Anyway, I'm glad there is still someone willing to make a change for greater good. I have at least 2 maps to finish myself and would love to complete them at last.
Here is something to consider, if you need inspiratin for new map material
http://file.nexoneu.com/Uploaded/EN/even...056390.png
Here is the one I was talking about, Nightfall. Those black things you see is actually glass, only it is not visible from GTK Radiant. There is missing skybox and some issues needs to be fixed, other than that map is almost completed.
http://shrani.si/f/47/3u/3GxrDVbN/beta-arena.png
Good luck
---
Need a signature? Go to my

SHOP

.
01-07-2017, 12:56 AM
ZonElax
Savate Boxe Française



Posts: 1,505

Joined: Feb 2012

Reputation:

111
RE: Mapping is not dead yet
I am working on a new map for Panzerwar server (obviously
) and its purpose is to have fun and it is designed for molotov fight actually. Some time ago I've made colored molotovs and Nightfall put it to the server and the feedback was awesome, everybody loves it so Thrasher came up with the idea 'Taste the rainbow' and it's the THING now!
Here are some pictures on how map looks like, it's a bit colorful but certainly fun to play.
Map will have some cool features such as mirror, smoke barrier with trigger, cool big-arse cocktail on the middle, snaky-tunnels and more!
Please comment, feel free to suggest anything. Enjoy.
---
Need a signature? Go to my

SHOP

.
01-07-2017, 02:17 AM
Robbert
Clan friend



Posts: 1,019

Joined: Aug 2016

Reputation:

70
RE: Mapping is not dead yet
Keep up the good work zone!
Nice to see this!!
User(s) browsing this thread: 1 Guest(s)