21-02-2012, 11:10 PM
Chaos
Clan friend



Posts: 165

Joined: Feb 2012

Reputation:

15
XFire
Well there isn't any tutorial like this so I am gonna make it.



Download & Installing.



• Download XFire from Here.
• Click on download XFire.
• Then After downloading an icon name

XFire Installer

would be there where you saved it.
• Click on the Icon,then follow the instruction.
• There only you can register.
• Register and then your XFire opens and Detect The Games you have(I Recommend you not to Skip it if u open it for the 1st time).
Then Log In with your Username and Password and the preview comes like this :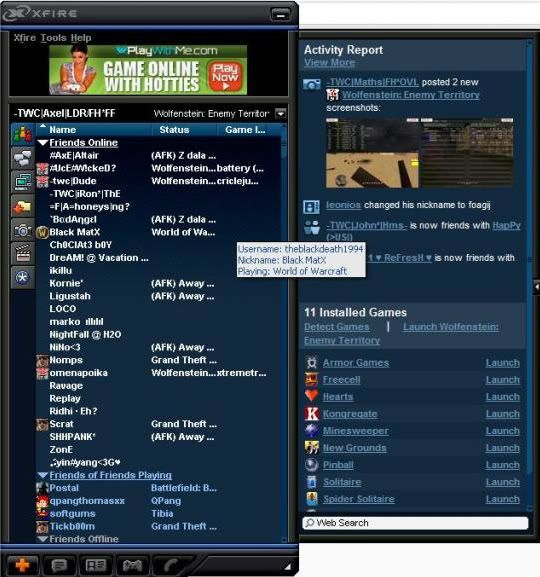 Adding Friends.



• To add friends u simply need to click that orange + button in the bottom left.
• Type his/her's xfire username and click on Search.
• Sometimes there maybe more than 1 people because the username maybe someone else title.So for that see his/her profile and then Click Add friend.
• If u want to send a message with it then remove the text at the bottom and type ur message
.



Chatting :





Text Chatting.



• To do this click on ur friends name and Click the button next to Orange + Button or simply double click on the name.



Voice Chatting.



• To do this follow the same steps as in Text Chatting then click on the Telephone like button.



Group Chatting.






• To do this i need an image to make u all understand better.
• So u need to click on that 3 sheep like thing button.
• Next type ur chat room name then click on the button.
• To invite people click on that + Sheep button.



Adding Servers.



• To add servers in XFire Click on Add button and type the ip of the server.
• Click Add.
• Well one thing i must say that its the best not to connect through xfire cos sometimes u may lose ur xp and levels.



Removing Servers.



• To remove servers simply right click on the button and click on Remove button.

Some Extra things.

Chat Logs.



• To enable it Go to Tools-->Options--->Chat tab---->Check the View chat logs button.



Viewing chat logs.



• To see the chat logs right click on the guy and View chat logs.



What to do if ur xfire doesn't detect ur games.





• Well Double Click on Not Installed games .
• Then Click on that game and Browse and select ur game's .EXE icon.
• Then click apply then ok.
• See that u haven't check

'Disable XFire in game'

.



Shortcuts.






• I think u all can see it

• Check XFire Online in Game to enable it.
• U can change them too.


Well I think this are the basics others u can discover by yourself
.
©Axel
---
27-02-2012, 10:23 AM
Axel
Ludicriose<A>KIll



Posts: 918

Joined: Feb 2012

Reputation:

58
RE: XFire
Ah it hurts me so much when my posts get copied LOL
User(s) browsing this thread: 1 Guest(s)