Forum Announcement: Changing forum user- and display group
09-07-2017, 02:52 AM
Changing forum user- and display group
Dear members,
As of recent, the server supremes have the ability to add and remove people from the usergroups of their server, i.e. the server members and high admins groups. The result is that we no longer have to send out tickets for group changes and thereby relieving some of the work of the MST.
There are two options:
We can add you
You can apply for a group

To apply for a group, you need to go to your user control panel or "user cp" which can be found at the top of the forums. There you will find a panel on the left with a number of things you can change to your own profile. The red arrow indicates the group memberships, click this to view your group memberships.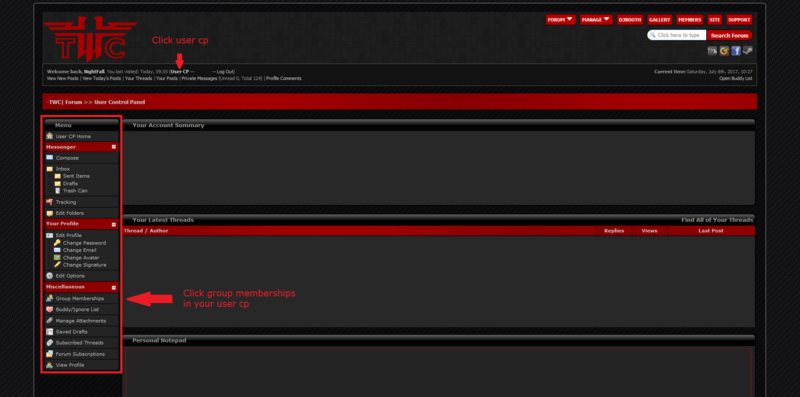 In the next page, you will find an overview of the groups you can join (at the top) and the groups you are already a member of (at the bottom). In my case, it also shows the groups I lead since I am the supreme of panzerwar.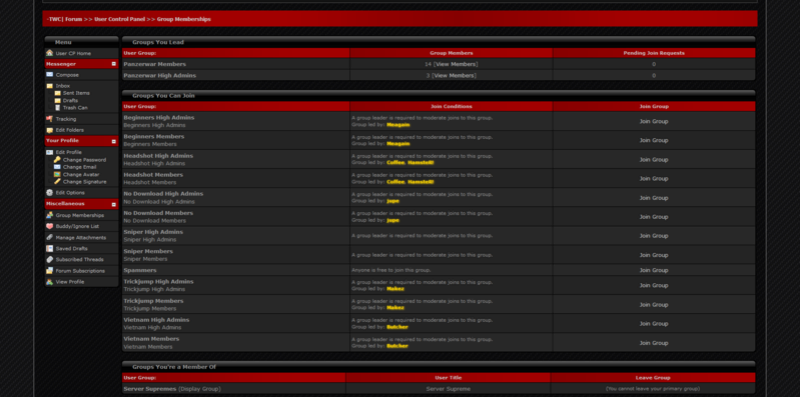 Here, you can select the group you wish to join. The supreme will get a notification on top of his webpage and has to accept it before you will become a member of a group.
But it doesn't stop here. At the moment, this system does not automatically change your display group. To change your display group, you have to go back to your group memberships after you have been accepted. At the bottom of the page, where the groups you are a member of are listed, you have to click 'Set as display group' to effectively display your new usergroup.
The server supreme will notify you when your usergroup has been changed.
Credits: NightFall